Enter Photos of Your Window Chalk Creations.
Sales, Weddings, Fall Foliage, Winter Snow, Whatever!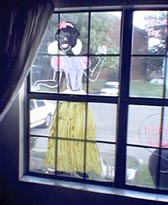 Congratulations to Lisa from Seattle, WA.
She wins the Spring Contest with
this photo of her Car Window below.
Creative Lisa!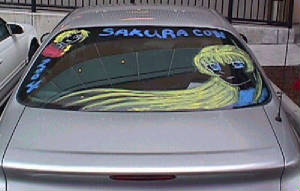 Congratulations to Melissa of Lexington, KY.
Here is her Valentine's Day "Love Bugs" Window.
The "bugs" are hearts with feet.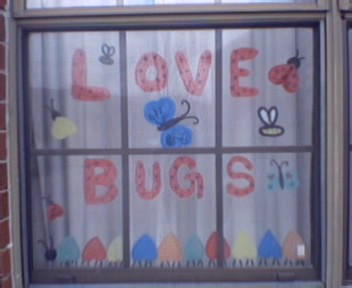 Congratulations to Stacey L. winner of our Christmas Photo Contest, with her creation of Goofy and his Christmas tree done at the Capezio Dance Factory Outlet in Wayne, NJ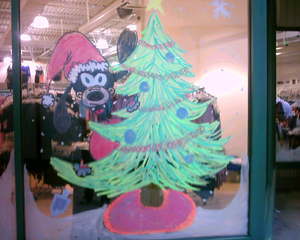 Congratulations to Pamela A. of Kentucky
winner of the Fall Photo Contest, She and her daughter combined a Scarecrow made at the Library's Story Time with a Pumpkin Patch made with Window Chalk. Good Work!!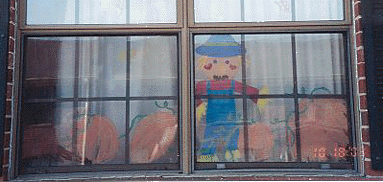 Enter Our Next Contest by Sending us Your Photo of Window Chalk in Use.
Contest Winner(s) will be Announced and Posted Here.
Winner(s) will receive a Four Pack of Their Choice of Colors
Then you can enter our Next Photo Contest.*
*By entering your photo you give permission for us to post and use your photo for our web site or other advertising.
E-Mail Entries to:
Snail Mail Entries to:
Window Chalk Photo Contest
10 BENNING ST Suite 180
WEST LEBANON, NH 03784-3404